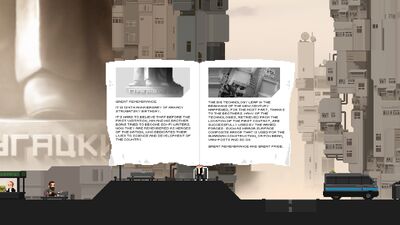 Metropole Newspaper is a note in The Final Station.
Contents
[
]
Great rememberance.
It is 134th anniversary of Arkady Strugatsky birthday.
It's hard to believe that before the first visitation, him and his brother Boris tried to become sci-fi writers. Now they are remembered as heroes of the nation, who dedicated their lives to science and development of the country.
The big technology leap in the beginning of the new century happened, for the most part, thanks to the brothers. Many of the technologies, retrieved from the location of the first contact, are successfully used by the armed forces: such as mirror surface composite armor that is used for the Guardian construction, Criton Beam, Van-Posts and so on.
Great remembrance and great pride.