Ristol is one of the stations and Locations of Achievements in the game The Final Station.
In-Game Description
[
]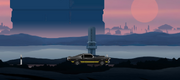 Following the unsuccessful attempt to find a field of electrum in Emeric's Crater, researchers expected a great breakthrough at the spot that was to become Ristol, when Metrapole's council allocated extra-budgetary resources to build Nebelherz, a factory nowadays located in the centre of the city.
However, it didn't stop private mineral mining factories from growing, which cause the city's expansion.
Blocker Code
[
]
Related achievements
[
]
Icon
Name
Description
Info
City of The Factories
Take 6 passengers to Ristol
Old friend's story
Finish the game with an "old friend"
John Cocker is picked up in Ristol in The Only Traitor DLC
See also
[
]