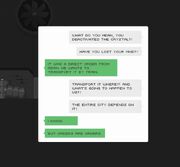 You Deactivated the Crystal Text Message is a note in The Only Traitor DLC. It is located on the ground floor of the Ristol factory building.
Contents
[
]
> WHAT DO YOU MEAN, YOU DEACTIVATED THE CRYSTAL?!
> HAVE YOU LOST YOUR MIND?!
< IT WAS A DIRECT ORDER FROM ADAM. HE WANTS TO TRANSPORT IT BY TRAIN.
> TRANSPORT IT WHERE!? AND WHAT'S GOING TO HAPPEN TO US?!
> THE ENTIRE CITY DEPENDS ON IT!
< I KNOW.
< BUT ORDERS ARE ORDERS.